We all like to touch and feel things, right? To feel the material, see the vibrant colors up close. How many times have you ordered a sample and it looked nothing like it did on your computer screen? Always such a disappointing experience. It's hard to envision something when you don't have the right materials in front of you. Now you're back to square one and ordering a second sample, which takes up your valuable time.
We are proud to introduce the perfect solution to this problem. Bright and portable, the new Color & Finish Swatch Box contains all your furniture designing options in one place!
We have thoughtfully designed a place to hold all of our color and finish swatch samples. A beautiful 8.5" x 11.5" box with a built-in carry handle, makes it easy to aesthetically present at your client meetings.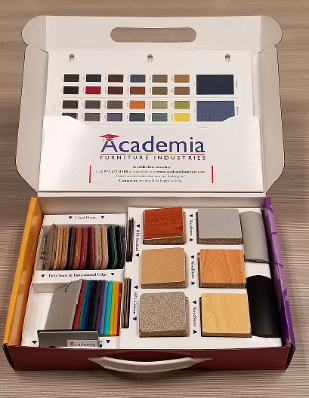 The swatch box has been divided into seven sections; edge banding, frame finishes, hard plastic colors, high-pressure laminates (standard & custom), poly & educational edge colors, soft seating fabrics and Woodstone finishes. All are clearly labeled for easy color/finish identification.
If you misplace a sample, no big deal. Send us the color you need and we will ship it to you right away.
In our swatch box you'll get to see the 3 NEW colors we've added to our color options. Plus! A brand new finish to our Woodstone collection.
We are so excited for you to experience our swatch box! It has been a labor of love which we can't wait to share with you, so order yours today!